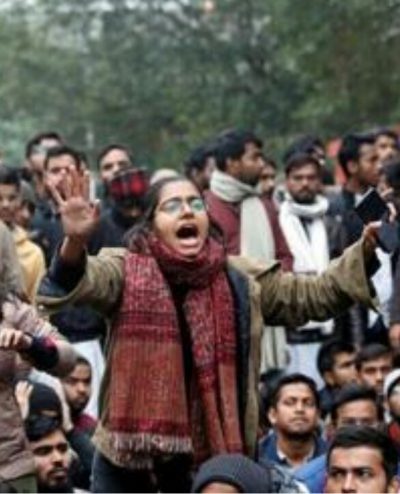 New Delhi, Jan 30 (IANS) The long march towards Rajghat by Jamia Millia Islamia students to protest against the new citizenship law (CAA), here on Thursday, was stopped by the police near the Holy Family Hospital after a man opened fire on the protesters.
The police caught the assailant and are questioning him. "We have caught the person and are interrogating him," said Deputy Commissioner of Police (DCP) Chinmay Biswal.
Several march participants said the man who opened fire was a "follower of Nathuram Godse". "We are following the ideology of Gandhi, but the same ideology that killed Mahatma wanted to kill us," said a participant.
According to witnesses, a man was seen raising religious slogans before he opened fire with a country-made pistol at the rally. "He was shouting 'Deta hu tumhe azadi' (Let me give you freedom). He then shouted 'Jai Shri Ram' and opened fire," said a protestor.
Meanwhile, Shadab, a journalism student who received a bullet injury on his arm, was taken to the Holy Family Hospital for medical care.
The students formed a human chain and didn't let the policemen in plainclothes enter the protest site.