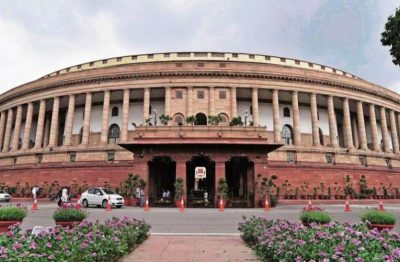 New Delhi, Feb 3 (IANS) Various opposition parties led by the Congress, including the DMK and the NCP, on Monday, staged a walkout from the Lok Sabha over the issue of Citizenship Amendment Act (CAA) as their demand to discuss the new law was not entertained.
Trinamool Congress, Bahujan Samaj Party, Samajwadi Party, Biju Janata Dal and Telugu Desam Party (TDP), however, kept sitting in the House.
Soon after the House reassembled at 1.30 p.m. after a lunch break, leader of Congress in Lok Sabha, Adhir Ranjan Chowdhury raised the issue of CAA, seeking discussion over the law in view of violent protests across the country against it.
As Lok Sabha Speaker did not allow Congress leaders to raise the issue and allowed Delhi MP Parvesh Sahib Singh Verma to speak on motion of thanks to President's address, the opposition led by the Congress, including Dravida Munetra Kazhagam (DMK), Indian Union Muslim League (IUML), Nationalist Congress Party (NCP), Jammu and Kashmir National Conference (J&KNC), walked out of the House.
Earlier, the opposition began to protest against the government to "roll back" CAA soon after the House assembled at 11 a.m. on Monday and the lawmakers came near the Speaker's podium sloganeering "save our democracy", "save our Constitution", "save our India", "Prime Minister, reply", "stop inflammatory speeches" and "roll-back CAA" when Speaker Birla did not allow them to speak over the issue.
Amid pandemonium, the Speaker Om Birla continued the Question Hour and Zero Hour. As the ruckus continued, the Speaker adjourned the House for lunch till 1.30 p.m.