BY SHEIKH QAYOOM
Srinagar, Feb 4 (IANS) As Kashmir limps out of its harshest winter in decades, the hope of a bountiful spring and summer kindles the hearts and minds of its people.
Having remained virtually shut for nearly six months since article 370 was abrogated on August 5 last year, Valley's economy has taken a serious beating.
It is in this backdrop that both the central and the union territory governments have been working overtime to ensure that tourism, handicrafts, agriculture, horticulture and other local industries get back on the rails.
"A mega investors summit is being held in March-April to woo investments for J&K from both domestic and foreign investors.
"Incentives are being announced for both tourism and the industrial sectors and tour and travel operators are being engaged to ensure maximum tourist inflow during the year", said a senior official of the UT administration.
Local artisans have been complaining of official neglect and lack of markets for their products ever since armed violence started here in 1990s.
"Wood carving, shawl and carpet weaving in addition to Papier-mache have suffered so much that almost all of our children have decided to abandon these family professions," said Gazanfar, a Papier-mache artisan from Zadibal area of Srinagar city.
It is commonly believed that traditional handicrafts have suffered so much neglect that unless aggressive revival measures are immediately taken Kashmir's centuries old arts and crafts would be relegated to history books.
"It was once proudly said that Emperor Napoleon had gifted a Kashmiri shawl to his empress, Josephine. Those engaged with shawl making are giving up this unprofitable profession fast.
"Competition from machine made shawls looking like the local ones has dealt a death blow to this industry in Kashmir," said Muzaffar Khan, a retired college principal.
After banning of Shahtoosh shawls made from the fleece of Tibetan antelope, Chiru, Pashmina now remains the best beat for the local shawl weavers.
"It takes nearly four months for an artisan to complete one Pashmina shawl, but the returns are very low because of middlemen in this business," said Salaam Bhat, a shawl weaver in central Badgam district.
"The Union Territory administration plans to hold special crafts festivals highlighting local shawl, Papier-mache, wood carving and other arts of Kashmir this year. We are hopeful that with Pro-active efforts we should be able to help the local arts and crafts regain their lost glory," said a senior official of the UT industries department.
Hoteliers, taxi operators, houseboat and Shikara owners are all looking forward to a tourism rich spring and summer in the valley this year.
"The most important factor to ensure that official efforts to revive the local economy succeed, is peace. We need a peaceful spring, summer and autumn to allow these efforts produce the desired results.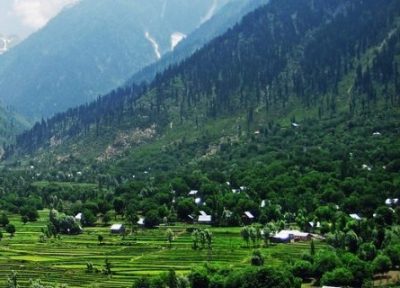 "This is the reason that the security forces have launched an all out effort to end the residual militancy in J&K before this year's tourist season begins," said another top official of the lieutenant governor led administration here.