Kolkata: West Bengal Governor Jagdeep Dhankhar on Friday called on Union Home Minister Amit Shah, apprising him of various 'critical and worrisome facets' of governance in the state and later alleged that "law and order" in Bengal "was graduating to a level of internal disturbance".
After meeting Shah at his office in the Parliament complex, Dhankar said it was a 'productive' meeting.
"Had more than half an hour productive meeting with the Union Home Minister Amit Shah at his Parliament House. Apprised the Union Minister about my perspective on various critical and worrisome facets of governance in the State of West Bengal," he wrote on his Twitter handle.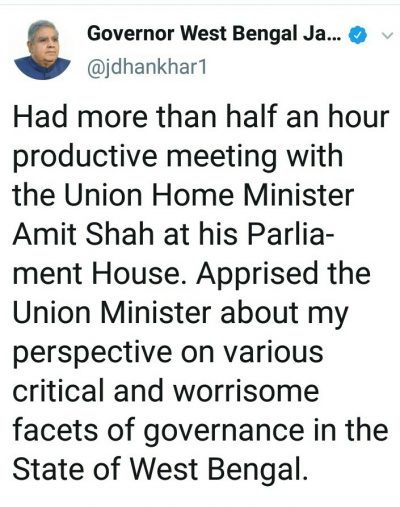 Later, he lashed out against the Mamata Banerjee government referring to "a very sorry state of affairs – a spectacle that does not further cause of democracy".
"I've seen several circumstances where law and order in the state was graduating to a level of internal disturbance. I have been to various parts of the state, and getting reports regularly from various quarters, all these seven months of serious political victimisation by the police authorities," he said, virtually escalating the confrontation with the Banerjee regime.
Dhankhar also alleged that "innocent people" were being implicated in "false criminal cases" only on account of "political considerations".
"The basic human rights of people is being compromised," he said after the meeting, that came ahead of the state-wide civic polls scheduled to be held next month.
Dhankhar, who had summoned the State Election Commissioner Saurabh Kumar Das later last month, said he also apprised Shah about his interaction with the poll panel chief.
"I apprised the union home minister that I have take steps by having an interaction with the State Election Commissioner and cautioned him that he should take a non-partisan approach."
The governor said the commissioner must not be a 'rubber stamp' of the ruling party or the government of the day.
"He must consider all stakeholders' concerns and ensure free and peaceful polls," he said.
In this context, Dhankhar claimed the panchayat polls in 2013 and 2018 "were really very critical and deficiencies were very painful".
"Violence and intimidation resulted in withdrawal of candidatures then. Democratic fabric at that point of time was tarnished," he added.
The state's ruling Trinamool Congress refused to attach much importance to the meeting and Dhankhar's subsequent explosive comments, but called him "pracharpal" (crazy for publicity).
"I have nothing to say. He is pracharpal, I am not. Everyday he has to tweet, hold press conferences. He has only repeated all his old comments. I He has no work, other than a constant effort to be in the limelight.
"As far as I am concerned, it is not the right time to respond to his comments. This is the time to build the nation," said Trinamool secretary general Partha Chatterjee.
(IANS)