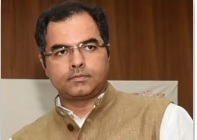 New Delhi, Feb 5 (IANS) BJP's West Delhi star campaigner for Delhi assembly elections, Parvesh Sahib Singh Verma, has been banned for the second time, according to Ranbir Singh, Delhi Chief Electoral Officer, over his remark calling Chief Minister Arvind Kejriwal a "terrorist."
Verma, an MP from West Delhi, has been banned from campaigning for 24 hours starting today, the Election Commission said.
The MP was earlier banned from campaigning for 96 hours by the Election Commission over communally divisive remarks.
The previous ban on the BJP star campaigner had come into force on Thursday last week.
"The (Election) Commission is of the considered view that Parvesh Sahib Singh Verma made vitriolic aspersions against Arvind Kejriwal, Chief Minister of Delhi, which violates the Model Code of Conduct," the Election Commission said in a statement.
The first ban on campaigning by Verma came after he claimed that those who have dug in on a stretch of road at south Delhi's Shaheen Bagh against the amended citizenship law "will enter your houses, rape your sisters and daughters".
Hundreds of protesters led by women have set up camps at Shaheen Bagh for more than a month now.
Verma, the son of late Delhi Chief Minister Sahib Singh Verma, is among several BJP leaders who have come out against Shaheen Bagh protest against the Citizenship Amendment Act (CAA).