Kolkata: The West Bengal government here on Saturday ordered closure of all educational institutions from March 16 to 31 as part of precautionary measures to check the coronavirus spread.
However, all board examinations would be held as per schedule, Chief Minister Mamata Banerjee announced.
"It has been decided that all government, government-aided, private educational institutions will remain closed from March 16 to March 31 in public interest," Banerjee said in a press release. The internal examinations of these institutions would also remain suspended, she added.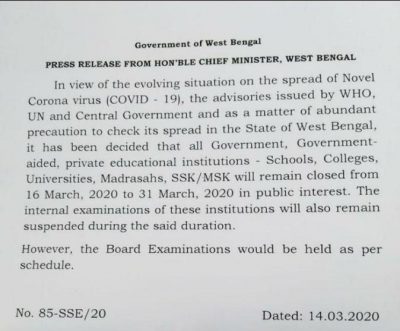 The decision was taken "in view of the evolving situation on the spread of COVID 19, the advisories issues by the WHO, the UN and the central government and as a matter of abundant precaution to check its spread" in the state, she said.
Earlier, the Indian Institute of Technology, Kharagpur, in a circular announced suspension of all academic activities till March 31 and advised students and campus residents not to leave the campus.
The circular issued by IIT Director V.K. Tewari said all laboratory activities and schools in the institution's premises would remain suspended till further notice.
IIT students living outside the campus have been asked to stay at home and use the online facilities for the classroom courses.
The Indian Institute of Management, Calcutta, has postponed the convocation, scheduled on April 4.
The Indian Institute of Engineering Science and Technology, Shibpur, has postponed all sports and cultural activities. Swimming and use of the in-campus gymnasium has also been banned.
The Amity University, here, has stopped all classes till March 31 and asked the 700 hostel residents to leave the campus and attend classes online from Monday.
Six people are in isolation in hospital, while 1,977 are under home surveillance among the 2,56,682 people screened in West Bengal since the global outbreak of coronavirus. No one has tested positive, according to a health department official.