New Delhi: The whole country is preparing for the 'Janata Curfew' on Sunday as suggested by Prime Minister Narendra Modi, but the elderly women protesting against the CAA on Friday said that they won't participate in it till their demands are met.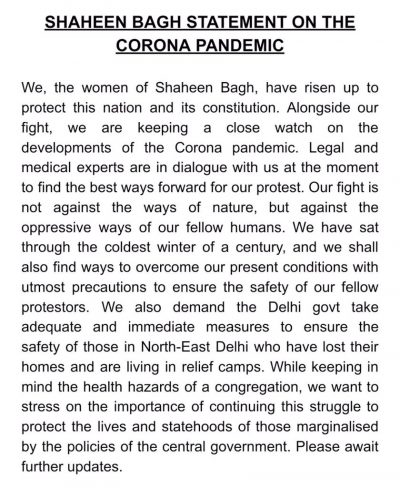 The number of protesters, however, has decreased following the coronavirus scare but around 50 women are still staging the protest against the Citizenship Amendment Act.
Known as 'Shaheen Bagh's grandmother' Aasma Khatoon said: "We will not shift from here till the 'black' Act of CAA is revoked. I don't fear whether I get infected with the coronavirus. I would like to die in Shaheen Bagh but won't leave".
Another grandmother of Shaheen Bagh, Bilkis Bano, said: "If the Prime Minister is really concerned about our health then why doesn't he cancel this 'black' Act, then we will also observe Janata Curfew on Sunday".
Noorjahan, a protester, said: "We are 'between the devil and the deep blue sea'. Danger of corona is soaring and on the other hand if the CAA and NRC are not taken back then it would be a deadly situation for us. Hence, we have the only option to struggle. If the government wants us to quit this protest then it should revoke the CAA immediately."
Raziya, a protester and resident of Okhla, said: "We will not leave our protest due to fear of infection. But now I don't bring my two kids here. We will remain here till the black Act is ended".
Another women Fauziya, who is constantly coming to Shaheen Bagh since three months, said: "The Prime Minister is talking about Janata Curfew for one day but we are sitting here since three months while leaving all other works. Despite this, no one has come to us. Everyone fears about getting sick, we also fear disease, but the detention centre scares us the most".
Though Shaheen Bagh women have decided not to participate in Sunday's Janata Curfew but they are sitting at a distance of two metres from each other to prevent infection. They are also being given suggestions to adopt precautionary measures against COVID-19.