New Delhi : The Gujarat high court on Tuesday declared the election of state BJP minister Bhupendrasinh Chudasama's from the Dholka constituency in the 2017 elections as void on grounds of malpractice and manipulation.
On development of this situation the Election Commission has set up a three-member committee of officers to examine the details of the judgement of the Gujarat High Court pertaining to the petition with regard to the Dholka assembly constituency election in Gujarat.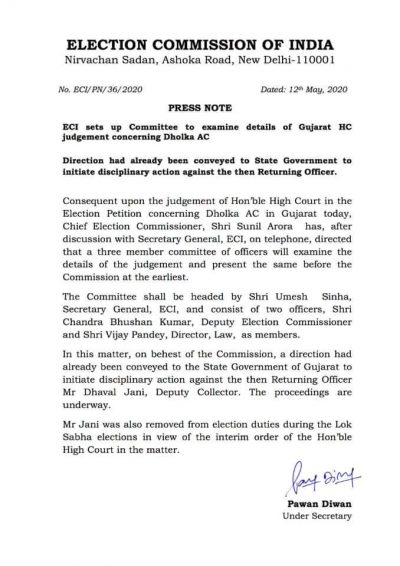 Chief Election Commissioner Sunil Arora has directed that a three-member committee, to be headed by Secretary General Umesh Sinha, will examine the details and present a report before the Commission.
Meanwhile, the poll panel has already directed the Gujarat government to initiate disciplinary action against the then returning officer, Deputy Collector Dhaval Jani. Sources said the proceedings are underway.
Jani was removed from election duties during the Lok Sabha elections last year in view of the interim order of the high court in the matter.
The Gujarat High Court on Tuesday declared Gujarat minister Bhupendrasinh Chudasama's election in 2017 as void. The decision was taken on grounds of malpractices and manipulation. The court observed that the returning officer was "hand in gloves" with the BJP leader and postal ballots were illegally rejected. (IANS)